WHAT'S NEW
Steve appears on a writer's panel on Intellectual Spark.
The theme is creativity later in life. Lots of fun, advice and laughs!
Time Waits for No One: The Chronocar Chronicles
Audiobook Now Available!
---
A fun interview with Chris Base! 
Trekkies and other science fiction enthusiasts will enjoy this.
---
Steve is a guest on Arm Cast: Dead Sexy Podcast, with host Armand Rosamilia
Click here for more interviews and appearances
---
Steve appears on WTTW's Great Chicago Trivia Quiz!
Click here to see a replay of the April 9, 2021 episode
(don't miss the part where Steve "nails" the host at the end!)

Can't get it where you live? Watch the replay online here
Meet the contestants and other fun stuff
---
A new snippet from the upcoming audiobook
TIME WAITS FOR NO ONE
read by Earl Sewell
Another snippet from the upcoming audiobook
TIME WAITS FOR NO ONE
read by Earl Sewell
This is from the scene where Tony Carpenter first meets Miss Martha, Ollie Johnson's granddaughter
TIME WAITS FOR NO ONE


Audiobook in production!
The Chronocar audiobook was performed by Earl Sewell.  I say performed because he did more than just read the story. He brought the characters to life.
I am happy to say that Earl has agreed to do the audiobook version of Time Waits For No One. He was gracious enough to give us a little sample of his work. You can see him in action below.  We'll share more snippets in the future!
---
Time Waits For No One earns Reader's Favorite 5-Star Review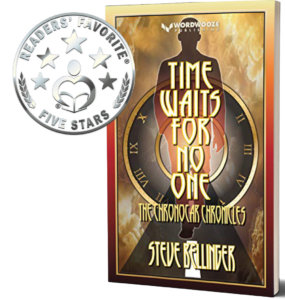 Readers' Favorite is the fastest growing book review and award contest site on the Internet. They have earned the respect of renowned publishers such as Penguin Random House, Simon & Schuster, and Harper Collins, and have received the "Best Websites for Authors" and "Honoring Excellence" awards from the Association of Independent Authors.
They are also very proud to be fully accredited by the BBB (A+ rating), which is a rarity among Book Review and Book Award Contest companies.
In 2015, Steve's first novel The Chronocar: An Urban Adventure in Time earned its first 5-Star Review from Reader's Favorite. In 2019 it won Reader's Favorite Gold Medal Award for Young Adult Science Fiction. His three following books have also garnered top reviews.
Now, his latest, Time Waits For No One: The Chronocar Chronicles has also earned a 5-Star review, where reviewer Scott Cahan says: "Time Waits For No One by Steve Bellinger is time travel fiction at its finest. " and  "I've read many time travel novels in the past but Time Waits For No One by Steve Bellinger is now my absolute favorite. "
Read the full review here:  https://readersfavorite.com/book-review/time-waits-for-no-one/1
---
The Chronocar and Time Waits For No One score in
Amazon's Best Sellers in Black & African American Science Fiction category